Polish Virtual Sailing Club - aktualności
Polish Open 2018 - key facts
2018-11-18 21:00:00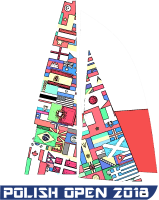 1) Tournament lasts from 2018-11-19 till 2018-12-17
2) There are 2 phases:
a) qualifications (2018-11-19, 2018-11-26, 2018-12-03), 9 races, 2 discards,
b) finals (2018-12-10, 2018-12-17), 20 skippers, 6 races, 1 discard (last race can not be discarded), results from qualifications will count in the finals
3) Every series starts at 21:30 CET.
4) Password for every PO2018 race is: po2018
5) There are no restarts for late skippers.
6) PO2018 is conducted under ISAF 2017-2020 rules. Pen cancellation is allowed. Every pen cancel request MUST be accepted. Every pen cancel request can be protested after the race using protest form.
7) There is protest procedure. To protest write P
on game chat and after the race submit protest using protest form.