Polish Virtual Sailing Club - aktualności
Polish Open 2018 - before start
2018-11-18 21:30:00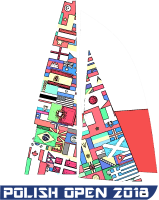 Polish Open 2018 is about to start.
Regatta days are: 19/11/2018 - 17/12/2018.
A list of signed up skippers is available here
Skippers have been divided into groups as follows:
Group A
Group B
Group C
Notice of race
Sailing Instruction
---
Za chwilę rozpoczyna się turniej Polish Open 2018.
Termin regat: poniedziałki, 19/11/2018 - 17/12/2018
Lista zapisanych skipperów jest dostępna tutaj
Skipperzy zostali podzieleni na grupy następująco:
Grupa A
Grupa B
Grupa C
Poniżej dokumenty dotyczące turnieju:
Zawiadomienie o regatach Instrukcja żeglugi